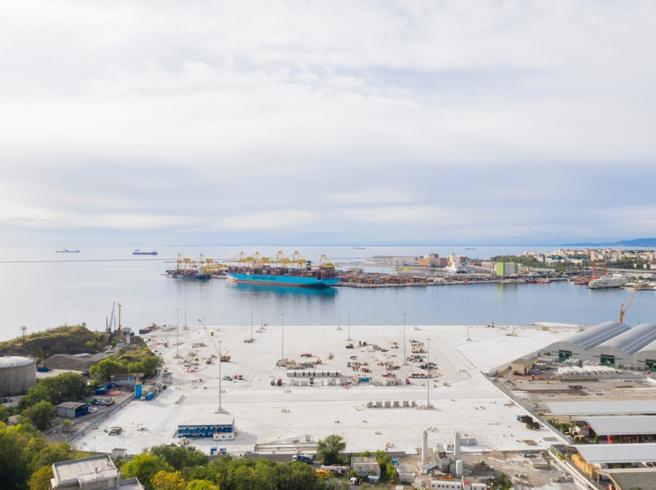 The 29th september is confirmed once again as a milestone in the relationship between Trieste and Mitteleeuropean Countries.
In the sunny day, many worde were spent to celebrate the end of the construction of the new multipurpose terminal. In sum: "Ein Hafen für Europa" – The Port for Europe.
A great tribute goes to the vision and strong will of our member and co-founder of our Associaion, Francesco Parisi Spa. All the terminal operators and freight forwarding companies, shipping agents and railway companies worked successfully for many years in competition with other european ports, gaining the crucial reliability to attract foreign investments. Let us mention the resilience and professionality of the container terminal Trieste Marine Terminal Spa and the Samer Seaports company – managing the ro-ro terminal.
The new partnership with Hamburger Hafen Logistik AG (HHLA) in the PLT project is the definitive confirmation of the capability and concreteness of our logistis community. In fact, the German partners invested in Trieste and not elsewhere because ther are proper projects and concrete reasons.
In our opinion, there is another piece in the mosaic that is still missing. The Public Institutions have to properly and completely implement the legal and competitive framework of the Treiste's free port status. This further step will allow the creation of added value activities, such as the industrial manipulation and trasnformation oh the goods, increasing the local value of the supply chain, achievieng qualified and stable job opportunities and making the italian and european industrial system more competitive worldwide. This is one of the major targets of the CONFETRA FRIULI VENEZIA GIULIA logistics association. Our efforts to explain the priciple of the customs-free territoriality granted by the international law to the Trieste's free port still fall on deaf ears. Nonetheless, we will never give up in fostering this unique opportunity, as we know its potential and have the expertise to get to the point.